This was an eventful year for Adasina Social Capital ("Adasina"), for social justice movements, and for the world at large. 2022 challenged us with targeted violence against the LGBTQ+, Black, and Jewish communities, legislative setbacks for both reproductive and voting rights, and continued climate change – just to name a handful of issues. But, we have also seen large scale victories on long campaigns to bring racial, economic, and gender justice to our communities. Let us celebrate those wins today.
Especially in challenging times, pausing to notice and celebrate victories is critical for staying engaged in social justice work. Here you'll find a place to celebrate this year's wins and milestones.
Adasina's 2022 Investing & Impact Highlights
More Ways to Invest with Adasina
Adasina Social Capital now offers Separately Managed Account (SMA) Model Portfolios. Registered Investment Advisors can access US All Cap and US Large Cap SMAs, with account minimums as low as $40,000 for some strategies.
Adasina's ETF Passes a Milestone
JSTC, Adasina's Social Justice All Cap Global ETF, had its second anniversary in December and continues to grow;  it surpassed the $100 million AUM milestone on August 10th.
Learn More: For additional details or to invest, see the JSTC website.
Celebrating the End of Forced Arbitration for Sexual Harassment
In a historic moment and an enormous victory for survivors of assault, the US Senate passed bipartisan legislation to end the use of forced arbitration for sexual harassment and assault claims in the workplace. This is a HUGE win for us at Adasina, as we were an early and sustained advocate for ending this harmful practice, and it is also a win for social justice groups and for social justice investors.
Learn More: Read the full story about our investor mobilization campaign and this historic win.
Investing in Civil & Voting Rights
Using research and metrics provided by the National Association for the Advancement of Colored People (NAACP), Adasina added a Civil & Voting Rights screen to our Social Justice Investment Criteria and enabled us to identify and exclude from our investment portfolios companies that disproportionately make political contributions to campaigns in opposition to civil and voting rights legislation.
Investing in Reproductive Rights
Since inception, Adasina portfolios have always included reproductive rights as an investment criterion. Following the Supreme Court ruling overturning Roe v. Wade, we shared how we've responded to the issue and how investors can support the movement for reproductive rights.
Taking a Stand on Greenwashing & Cheap ESG
Are well-intentioned investors and professionals unintentionally driving greenwashing by demanding low fees? We believe the short answer is yes.
Public Sentiment & Ballot Box Alignment
We believe social justice movements give us early indicators of investment risk; it seems they also provide early indicators of major political and public sentiment shifts. We are proud and pleased to see that many of the same issues we have worked on saw success at the ballot box in 2022:
Reproductive rights were secured in Michigan, Vermont, and California constitutions.
The subminimum wage for tipped workers will be eliminated in Washington DC, thanks in large part to social justice organizers including our partner, One Fair Wage.
Michigan and Connecticut expanded access to voting.
| | |
| --- | --- |
| | Rachel Robasciotti is interviewed extensively in the New York Times (and photographed as well) in this feature about ESG, social justice investing, and the roles of government and capitalism in working towards justice. |
| | Should a company be judged by the country in which it is headquartered? Rachel weighs in with Bloomberg on Russia and ESG. |
| | Maya Philipson shares reflections with ImpactAlpha on Adasina's experience investing in the municipal bond market with an eye toward racial justice. |
| | Rachel talked with Financial Planning about whether wealth management firms have lived up to the racial justice pledges they made in the wake of George Floyd's murder in 2020. |
| | Renee Morgan, our Social Justice Director, reflected on the leaked Supreme Court ruling on reproductive rights with Protocol. "In one fell swoop, this ruling not only can move decisions to states and municipalities, it moves it to corporations…Every corporation should be against this ruling." |
Adasina in the Field
Rachel Robasciotti, and Ryan Monroe, Adasina's Institutional Business Development Director represented Adasina at the Schwab IMPACT 2022 conference where Rachel presented on social justice investing.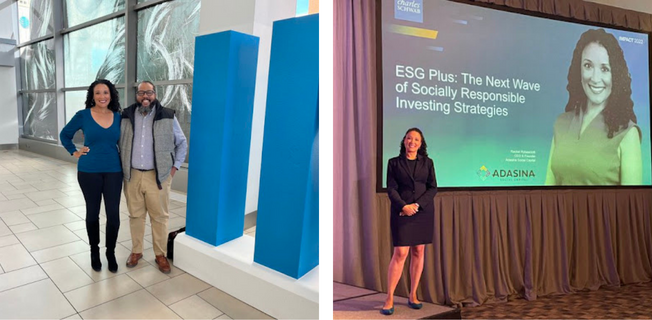 Renee Morgan was a panelist at ESG for Impact. One of her quotes: "Sometimes divestment gets a bad rap. But look, there are some companies that we just won't own. If you invest in private prisons, you are profiting off the legacy of slavery and racist Jim Crow policies."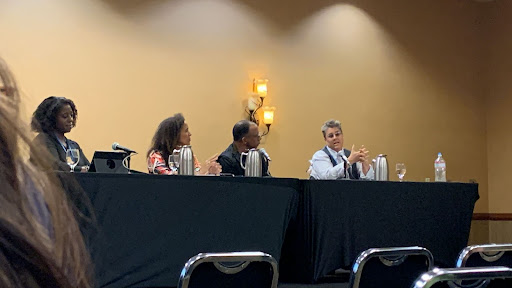 Rachel keynoted the first-ever Future Proof Festival speaking about social justice investing and how it can help foster a better world through capital markets.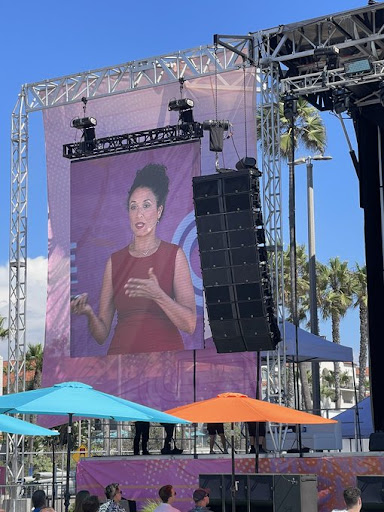 At the Adasina-ETC Group Impact Experience, Adasina's staff members (including Rachel, Renee, and Srishti Assaye) Adasina brought investors and social justice movement leaders together to set the stage for our upcoming Extractive Agriculture Campaign, which will address the intersectionality of climate, racial, gender, and economic injustice.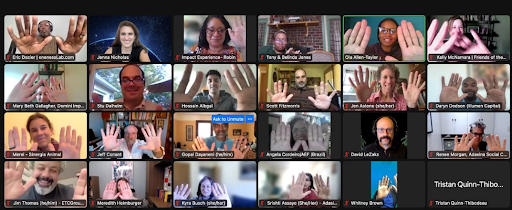 Rachel spoke at Bloomberg's International Women's Day Celebration.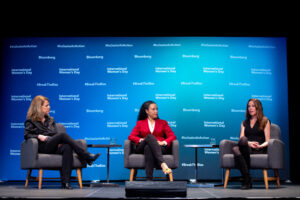 Diane Manuel, Adasina's Foundation & Client Relationships Director, participated in a Neighborhood Economics gathering in Indianapolis.
Rachel participated in the 2022 European Climate Foundation (ECF) Partners Retreat in Brussels, Belgium.
Renee participated in the Climate Finance Fund Aligning on Equity summit in Port Antonio, Jamaica.
---
Disclosures
Important Information:
Before investing you should carefully consider the Fund's investment objectives, risks, charges and expenses. This and other information is in the prospectus. A prospectus may be obtained by calling (833) 743-0080 or visiting www.adasinaetf.com. Please read the prospectus carefully before you invest.
Investing involves risk, including the potential loss of principal. There is no guarantee that the Funds investment strategy will be successful. Shares may trade at a premium or discount to their NAV in the secondary market, and the fund's holdings and returns may deviate from those of its index. These variations may be greater when markets are volatile or subject to unusual conditions. The Fund is new and has a limited operating history. The Fund has a limited number of financial institutions that are authorized to purchase and redeem shares directly from the Fund; and there may be a limited number of market makers or other liquidity providers in the marketplace.
Foreign and emerging market investing involves currency, political and economic risk. Applying climate, economic, gender, racial, and movement aligned justice domain criteria to the Fund's investment selection process may exclude securities of certain issuers for non-financial reasons and therefore, the Fund may underperform the broader equity market or other funds that do not utilize similar criteria when selecting investments.
Shares of the Fund are distributed by Foreside Fund Services, LLC.
This material was prepared by Robasciotti and Associates, Inc. dba Adasina Social Capital ("Adasina"), a Registered Investment Advisor. Transmission of the information contained herein is not intended to create, and receipt does not constitute, a client relationship.
This material is provided for informational purposes only and is not intended to be, and should not be construed as, an offer, solicitation or recommendation with respect to any transaction and should not be treated as legal advice, investment advice or tax advice. Recipients should not rely upon this information as a substitute for obtaining specific legal or tax advice from their own professional legal, investment, or tax advisors. The investor must ensure the suitability of an investment as regards their financial and fiscal situation and investment objectives. The investor bears the risk of losses in connection with an investment. Investing involves risk, including possible loss of principal. Asset allocation and diversification may not protect against market risk, loss of principal or volatility of returns. Before acting on any information in this material, it is prudent to consult one's financial advisor.
This material may be based on or contain information, such as opinions, estimates, price targets and valuations which emanate from Adasina's employees or representatives, publicly available information, or other named sources. The third-party information contained within this material was carefully compiled from sources that Adasina believes to be reliable, but Adasina cannot guarantee the accuracy of any third-party information. All opinions and estimates in this material are, regardless of source, given in good faith, and may only be valid at the stated date and time this material was received and are subject to change without notice. Adasina does not provide any assurance that any investment strategy will perform as described in this material.
The Adasina Social Justice Index (JUSTICE) is a global universe of public equities screened for social justice. The Index is built by applying a data-driven set of investment standards (the Adasina Social Justice Investment Criteria), designed to support progressive movements for change, to an all market capitalization collection of securities.  Investments cannot be made directly in an index.  For more information regarding the Adasina Social Justice Index and its holdings, please visit https://eqmindexes.com/social-justice-index-summary/.
Definitions:
"ESG" means environmental, social, and governance