A note about language – The question of terminology often sidelines discussions about reproductive rights. When talking about abortion rights, how do we describe who needs access? Women, girls, non-binary people, and transgender men, all need and deserve bodily autonomy as well as safe and legal access to abortion. We also realize that cisgender women – across a broad spectrum of demographics –  have visibly held the forefront of the fight for abortion rights for decades. In this article, we will use a variety of terms, specifically "women." Please note that, in instances where we name one specific group, we don't intend to exclude the others. All impacted groups are in this struggle together, so let us not fight about terminology but fight for our rights. 
What's Happening and Why is It Important?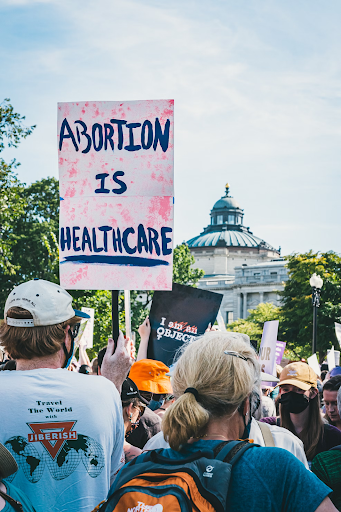 On June 24, 2022, the Supreme Court, in a 5-4 decision, overturned Roe v. Wade – the landmark ruling that established the constitutional right to abortion1. This decision advances an invasion of restrictions on access to reproductive care, as well as an ongoing expansion of state-level policies that deny, delay, and impede2 abortion access.
The disconcerting decision also directly harms countless women and birthing people across the country – especially those living in systemically underserved communities, a group who are disproportionately people of color.
Access to reproductive healthcare, including safe and legal abortion, is as much an issue of gender justice as it is of economic and racial justice. New laws enacted due to the Supreme Court decision will particularly harm those living in economically challenging environments and communities of color – especially since individuals in these communities tend to have limited resources to access an out-of-state abortion.
Bodily autonomy is a fundamental human right.
Access to abortion, contraception, privacy, and bodily autonomy should be available to all people who can get pregnant.
How Has Adasina Responded?
At Adasina, our investment strategy is designed to address intersectional social issues – aligned with ongoing and emerging social justice concerns.
We develop our Public Equities Strategy by starting with the Adasina Social Justice Index (JUSTICE) –  using more than 80 different portfolio metrics (or "ways of measuring") that we call our comprehensive Social Justice Investment Criteria. These metrics address issues at the intersection of racial, gender, economic, and climate justice. Since our inception, we have always included reproductive rights in our investment criteria, resulting in divestment from companies that donate disproportionately to anti-choice politicians and those that influence policy negatively for reproductive freedoms. Given the expanding political landscape, we also now identify and exclude companies that disproportionately contribute to political campaigns opposing civil and voting rights legislation – furthering our objective to evaluate investments through a broad intersectional lens across social issues.
In addition to screening our own portfolios for issues related to reproductive rights, we work in a coalition with our Social Justice Partners to actively engage with corporations and drive policy changes.  Adasina was an early signer of the Don't Ban Equality statement – launched in 2019 in response to restricted access to comprehensive reproductive healthcare, including abortion.
What Can Investors and Advisors Do?
Adasina Investors: We've got you covered. Adasina's Public Equities Strategy already includes reproductive rights as an investment criterion. Of course, if you wish to donate or be politically active in the cause, we encourage you to participate in the ongoing movement – and, have included information below on how to get involved.
Advisors & Institutional Investors:

Ask the management at your portfolio companies about their positions on reproductive healthcare, including contraception and abortion. Lean on them to provide travel benefits, paid time-off, and other necessary provisions – to ensure that their employees have continued access to safe abortions, reproductive health, and gender-affirming healthcare. If they have already implemented these steps, acknowledge and let them know you appreciate their policies.
It is important to note that companies that offer these benefits often limit them to full-time employees. We encourage you to ask these companies to extend those benefits to part-time and contract workers as well.
Sign on to the Don't Ban Equality statement and ask portfolio companies to do so as well – this will help substantiate their position on how these bans go against their company values and negatively affect efforts to promote equality in the workplace.
Individual Investors: Ask your financial advisor about the companies you are invested in and their respective stances on reproductive rights. Urge the advisor to leverage Adasina's Public Equities Strategy to exclude companies that undermine reproductive rights. You can also insist on engaging with the companies in your portfolio  –  including via proxy voting3 –  to insist these companies change their stances and policies to favor reproductive freedom for all.
Drive the Change You Want to See: Donate and Get Involved
Actions speak louder than words. We encourage you to protest, donate, call your elected representatives, and join the ongoing fight for reproductive rights – do what you can with the time and financial resources available to you.
Below are a few organizations that you can engage with via donations, sign-ups, and other efforts:
Adasina acknowledges that while this may seem like a recent issue to most Americans, certain demographics – including, but not limited to, people of color, and Indigenous groups – have dealt with restricted reproductive rights for generations. As a community fighting for reproductive justice, we have a lot to learn from those who have been fighting this issue for decades. We are committed to walking the path they have paved for an expanded group of people impacted by the recent Supreme Court decision.
There is no gender equality without safe, legal, and unrestricted access to reproductive health services. Adasina stands in solidarity with women, girls, transgender men, nonbinary people, and the social justice organizations fighting for everyone's right to safe and legal abortion.
Disclaimer
Adasina Social Capital (Adasina) is not responsible for the content, services, or products offered by third parties. These organizations should not be construed as a recommendation, endorsement, or sponsorship by Adasina, nor are they affiliated with or employed by Adasina. They are provided as a convenience and are for informational purposes only.
---
Endnotes
Supreme Court of the United States, "Certiorari To The United States Court Of Appeals For The Fifth Circuit." Supreme Court of Justice (June 24, 2022).
 NPR, "Why Abortion Access Is Important For A Healthy Community," NPR.com (March 24, 2022).
Adasina Social Capital, "Adasina Proxy Voting Guidelines," Adasina Social Capital (2022).