Why did we create a better solution to impact investing?
Many investors who put their money in the hands of traditional investment managers that promote "Environmental, Social, Governance (ESG)" and "socially responsible investing" have good intentions – but the reality is, they may actually be investing in ways that inadvertently cause social, economic, and environmental harm.
We occupy a unique place in the financial industry, offering both restorative and regenerative investment solutions that center the goals of social justice movements in our approach.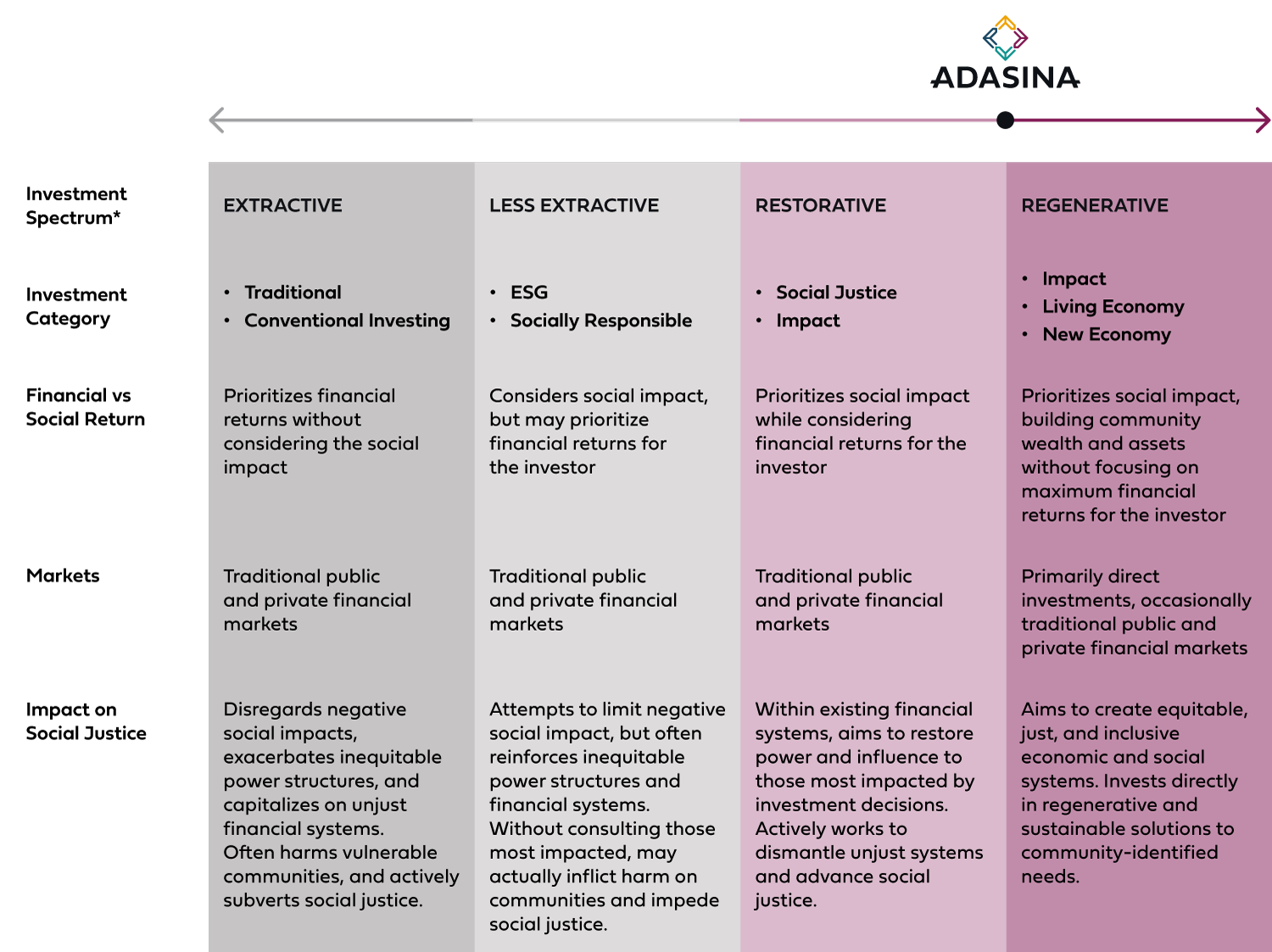 *The Extractive to Regenerative Spectrum was originally introduced by Justice Funders as a guide for social justice focused philanthropy. It has been adapted here for the investment industry.
The Adasina Social Justice Investment Criteria:
Together with social justice organizations, we developed the Adasina Social Justice Investment Criteria– a data-driven set of standards that guides our investment strategies to reflect social justice values and advance progressive movements for change.
These data sets determine where to "draw the line" so that public companies and governments can choose which side of justice they stand on. This informs our investment and divestment decisions. We further leverage this community-sourced data to educate and organize the investment industry to effect positive, systemic change for people and the planet.
These criteria focus on four intersectional issue areas:
Our Racial Justice criteria aim to uproot systems that reinforce, perpetuate, and exacerbate racial inequities. We evaluate companies to determine whether they participate in, or benefit from, those unjust systems.
Our investment criteria include:
Prison Involvement
Prison Funding
Prison Labor

Money Bail Involvement
Immigrant Detention
Citizen & Immigrant Surveillance
Occupied Territories
Indigenous Peoples' Rights
Diversity & Inclusion Policies
For-Profit Colleges
Our Gender Justice criteria aim to ensure safe and fair opportunities for all people, regardless of their gender identity. We evaluate companies to determine whether their policies and practices support gender equity or LGBTQ+ equality.
Our investment criteria include:
Sexual Harassment
Reproductive Rights
LGBTQ Equal Employment Opportunity
Our Economic Justice criteria aim to create a fair and equitable financial future for all people and communities. We evaluate companies to determine whether they deal fairly with the public or their employees.
Our investment criteria include:
Subminimum Wages for Employees
Forced Labor & Child Labor
Worker Protections & Rights
Working Conditions
Excessive Executive Pay
Predatory Lending
Our Climate Justice criteria aims to advance the goals of environmental sustainability in partnership with social justice movements. We evaluate companies to determine whether they significantly contribute to climate change, lack environmentally sustainable practices, or negatively impact air and water quality.
Our investment criteria include:
Fossil Fuels
Fossil Fuel Funding
Extractive Agriculture
Energy Usage
Rainforests & Deforestation
Carbon Emissions
Mining
Pollution
Water Management
Product Waste
At Adasina, we offer several ways to access our Social Justice Investing approach.
Public Equities Strategy
- Stocks -
Integrate our social justice investing approach for public equities into your existing investment portfolio.
Learn More.
Fixed Income Strategy
- Bonds -
Integrate our municipal bond strategy designed to advance racial and economic justice in your existing investment portfolio.
Learn More.
Total Portfolio Investment
- Accounts -
Open an account with Adasina Social Capital to integrate our social justice investing approach across your entire portfolio.
Learn More.
Public Equities Strategy (Stocks)
Our public equities strategy uses the Adasina Social Justice Investment Criteria to build a portfolio of stocks that reflects social justice values and advances progressive movements for change.
Available investment solutions:
Adasina Social Justice All Cap Global ETF

(Exchange-Traded Fund)


Visit the ETF website to learn more.

Visit the ETF website to learn more.

Adasina Social Justice Index


The Adasina Social Justice All Cap Global ETF tracks the Adasina Social Justice Index, a global universe of public equities across all major asset classes screened for social justice. We created the Adasina Social Justice Index to serve both as a suitable benchmark for our own Public Equities Strategy and as a standard for all stock portfolios that seek to advance social justice. The Index was created in collaboration with EQM Indexes and Your Stake.
Visit the Index website to learn more.
Fixed Income Strategy (Bonds)
Our fixed income strategy is a municipal bond portfolio intended to advance racial and economic justice by investing in Black communities across the United States. Our strategy infuses Black communities with much-needed capital for funding sustainable, long-term economic opportunities.
Available investment solutions:
Learn more about the strategy via the resources below:
Advancing Racial & Economic Justice with Municipal Bonds (Article)
What should I know about the strategy?
At the heart of Adasina's work is our accountability to the communities most impacted by our investments. When it was time to expand our investment approach to include a fixed income strategy, working with Activest as a research partner was a natural fit. Activest's Black-led team partners with the communities most impacted by racial and economic inequities to conduct on-the-ground research. This allows us to make community-accountable investments designed to make a significant positive impact on Black communities across the country.
Traditional municipal bonds are often not as neutral as you might think. Some municipalities may have harmful, extractive, or even predatory practices that negatively impact their Black and Brown residents. These include payouts that enable serial police brutality and offering corporations tax abatements while relying heavily on excessive fines and fees from residents. But, fiscally unjust practices like these are often overlooked by traditional municipal bond rating agencies. Unlike traditional municipal bond strategies, which rely solely on this inadequate research, the Adasina Fiscal Justice Municipal Strategy blends economic modeling, financial analysis, social policy research, and community organizing to advance racial and economic justice - fiscal justice - in municipal finance.
The strategy primarily invests in areas we believe will deliver a positive social and environmental impact, with a focus on underserved and low socioeconomic status communities, predominantly Black municipalities or cities with a large Black population. Below we offer some insight into where we might invest and why.
Financially Sound & Under-Resourced Communities
While we primarily invest in general obligation municipal bonds in Black communities, we may also invest in school bonds, such as those issued by Historically Black Colleges & Universities (HBCU) bonds in areas like Hampton, Virginia. Hampton is a Black-affirming community, takes a generative approach to public safety and economic development, and presents an exciting opportunity to invest in a traditionally under-resourced community.
Communities with Fiscal Justice Opportunities
We also look for communities with large Black populations where we see community engagement coupled with opportunities for improvement in fiscal practices. Specifically, we're looking for places where bondholder partnership and advocacy could be catalytic for change. Some cities may have a few policy issues that are untenable from a fiscal justice standpoint, but are otherwise attractive from an investment and engagement perspective. In these cases, our aim is to make investments in those communities coupled with strategic bondholder advocacy. 
For example, in 2017, the City of Chicago, Illinois reached the attention of community organizers for their ongoing practice of using municipal bonds to cover the cost of police brutality lawsuits. Rather than calling for divestment from a city with severely under-resourced Black communities, Activest organized bondholders, in partnership with community organizers, to advocate for reforming this municipal behavior.
There are many factors that are used to evaluate municipal bonds for inclusion in the FIscal Justice Municipal Strategy. Below are some of the factors we consider. 

Significant Black Population

Policing Practices




(particularly practices known to increase the likelihood of police brutality)

Racial Disparities in Community Well-Being

Racial Disparities in Economic Development

Racial Disparities in Economic Opportunity

Use of Bond Proceeds

Fiscal Justice Opportunities

Equitable Revenue Generation (particularly revenue from fines and fees on residents vs other sources)
This strategy is an excellent fit for values-aligned institutions, families, and individuals seeking diverse managers and high community impact, particularly in service of racial and economic justice. Investors should be able to prudently assume the risks associated with significant investment in a concentrated bond portfolio, have a time horizon of 5 years or more, and low to moderate-income expectations. The minimum investment for the Fiscal Justice Investment Strategy is $1,000,000.
Interested in our Fixed Income Strategy?
Total Portfolios Investment (Accounts)
Our Social Justice Portfolios offer the opportunity to integrate our social justice investing approach across your entire investment portfolio.
These accounts are well-suited for investors who wish to create an automated, values-aligned retirement or brokerage account. The minimum investment for an Adasina Social Justice Portfolio is $100,000. There is currently a waiting list for new accounts.
Adasina Social Capital is not simply an ESG firm. Our mission is to provide social justice groups and impact-driven investors with a platform where people, investments, campaigns, and education work in unison to drive large-scale, systemic change. This change must extend well beyond our own investments to the wider financial ecosystem, never losing sight of the transformative influence on our communities and the planet.
We partner with social justice movements to identify companies and governments whose practices are recognized as particularly harmful to impacted communities. We also use this data to educate and mobilize other investors with campaigns that amplify the needs, perspectives, and voices of impacted communities throughout the financial system.
What makes our investment approach so groundbreaking is that we're the first to source our data primarily from social justice organizations and activists from the communities most impacted by systemic injustice. View the complete Adasina Social Justice Investment Criteria.
Together with our research partners, we combine data provided by our social justice partners with commercially available data to determine where companies stand on issues of racial, gender, economic, and climate justice.
You don't have to switch your current wealth management firm or leave your family office to work with us. With Adasina you can invest in a way that is truly aligned with your values and maintain the relationships that are important to you.
Talk to your current financial advisor about how to use Adasina's public equities or fixed income investment solutions in your current portfolio. If your advisor is not already familiar with our investment solutions, reach out to let us know. We'll be happy to coordinate speaking with them directly.
Our fees vary depending on the investment solution. Reach out to us, we'll be happy to share the fees that are most relevant to your interest. 
At Adasina, we value transparency. In order to do this work and pay our team of experts to rigorously screen our investments and lead industry-wide campaigns, we ensure our fees are reasonable and comparable to the market – and they go straight to our firm, supporting a regenerative, Black-owned business led and staffed primarily by women, people of color, and members of the LGBTQ+ community.